Stewardship Second -- Stewardship is a spiritual practice. How do we share our abundance to prepare the way for Jesus?
Trenton United Church welcomes You!
Join us Sunday mornings for
Worship and Sunday School at 10:30 am.
Effective January 1st, 2015, Trenton United Church was established through the amalgamation of three United Churches in the city of Trenton Ontario.
Read more about the history of the three churches in the "Our Journey" section of this website.
Warm and Welcoming
We are a warm and welcoming congregation made up of people of all ages and interests.
You are sure to feel at home here!
Trenton United Church offers something for everyone. Join us and become part of our beginning and a part of our future.
Minister - Rev Isaac Mundy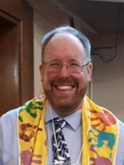 Rev. Isaac was ordained in 2011 and has been our minister at Trenton United Church since 2018. As a husband and father of two he loves spending time outdoors with family and friends. With a strong background in social justice ministries and work with children and youth, Rev. Isaac feels deeply blessed to share in ministry with the compassionate and faithful people of Trenton United Church.
We, Trenton United Church, choose to worship God, grow our Christian faith, and live God's love by serving our world.



Vision Statement
1) We are a church that honours the
differing abilities of the community by making our building, programs, and worship more accessible, so Christ's love can be fully shared.
2) We celebrate and care for children and young people, creating vibrant opportunities for Spirit-filled discipleship that awakens faith and praise for those of all generations.
3) We walk with God beyond the doors of our buildings, to share the good news of the gospel, and live in compassion and solidarity with the most vulnerable of our world
Upcoming Events
Worship Time & Location
All are welcome! Join us Sundays at 10:30 am
for Worship and Sunday School.
Something for everyone!
At a Glance Events
October 29 - Worship - 10:30 AM
October 29 - Coffee and Fellowship -11:30 AM
October 29 – TUC Open Mic Coffee House – 3PM
October 31 – M&P Meeting – 10:00 AM
November 1 – Outreach Committee – 10:00 AM
November 1 – Craft Group – 1:30 PM
November 1 – Choir Practice - 7:00 PM
November 1 – Cantata Rehearsal – 8:00 PM
November 3 – Community Lunch - 11:00 AM

November 4 – Fall Cleanup Day – 1:00 PM
November 5 - Worship - 10:30 AM

November 5 - Coffee and Fellowship -11:30 AM
November 7 – TUC Pride Team Meeting – 10AM
November 7 – Faith Development 5:30 PM
November 8 – Readers Theatre Practice – 10:30 AM
November 8 – Craft Group – 1:30 PM
November 8 – Choir Practice - 7:00 PM
November 8 – Cantata Rehearsal – 8:00 PM